Decorating Your Porch for Fall
•
Posted on October 08 2019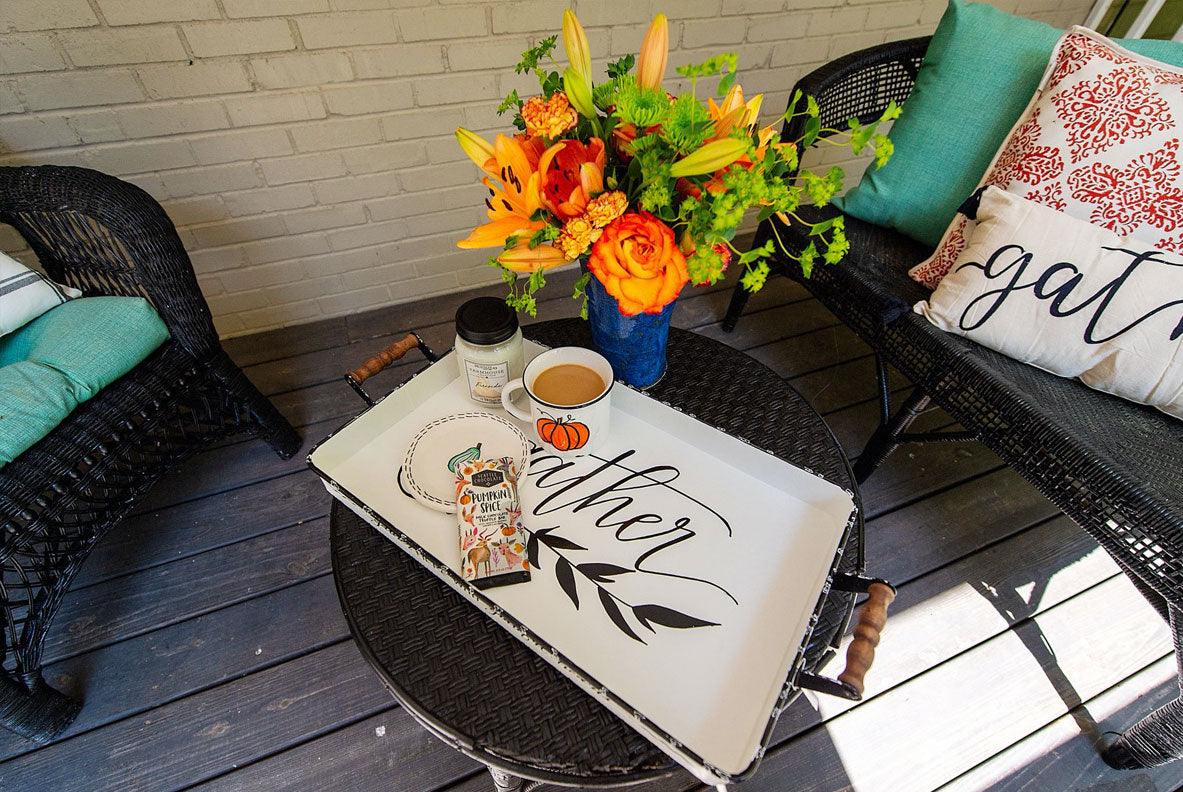 Set the Stage for Fall with These Fall Porch Décor Ideas
As much as we adore the laidback vibes and warm weather of summer, there's nothing quite like the special feeling of fall. The vibrant hues of changing leaves, the smell of bonfires and pumpkin pies and the spicy flavors of everyone's favorite gourd-infused latte — few things are as simultaneously satisfying and soul warming as this season! To welcome it with open arms, we're sharing some of our favorite outdoor fall decorating ideas for you to gobble up.
Before You Begin: Gather Your Supplies
Admittedly, this is our favorite part. Our strategy is to mix and match! Grab pumpkins in a wide variety of sizes and colors (we're partial to the orange, blue and white color scheme). And don't be afraid to put real pumpkins next to fake ones. Make it feel earthy with sticks, greenery and florals and load up on the unique containers — hello, pitchers and metal buckets! Gather your candles, position your pillows and top your trays with hot chocolate. Finally, pick up a pumpkin welcome board topper to ensure that your guests feel welcome.
Display Cute Front Porch Décor — We love to start by peppering in our fave outdoor fall décor. Start by hanging up your fall burlee door hanger for a fun way to set the stage for a festive fall design. Prop up a metal bucket and arrange pumpkins and foliage to add color under a table or on the porch floor. You can do this by the door as well if you have space.
Decorate Your Tables — Decorate a table by adding different fall elements, including lanterns, candles, vases and foliage. Add height in the back and work your way down. You can even take old wreaths and turn them into foliage. Sometimes you have to think outside the box! For the perfect fall finishing touch, add in real flowers and potted plants. Remember, it's mum season!
Build a Pumpkin Tower — One of our favorite cute fall porch ideas is to build a pumpkin tower using fun autumn décor and stuff you have lying around the house.

Faux fill a bucket or plant stands until it's overflowing. We used brown paper.
Set a grapevine wreath on top and place the largest orange pumpkin on that.
Cut off the stem with clippers or a knife.
Hot glue a pumpkin on top of that, preferably in a different color.
Repeat!
Fill around the edges of the bucket with fake leaves or stems. Add some simple fall garland around that for dimension and texture.
Create a Comfortable Seating Area — Create an inviting seating area and include a tray with fresh flowers to make it feel warm. Bring in some comfy chairs and fall pillows so you have a space to sit and enjoy your morning coffee cup, a book, a yummy chocolate bar or lunch with a friend. After all, decorating your porch is about making it cozy and comfortable for you and your guests.
Bring Your Porch to Life
The front porch is the place where we greet our guests, unwind after a long day and stop to enjoy the changing leaves. With these excellent décor ideas, you're sure to get everyone in the spirit of the season, starting with when they stop by your house!