How to Make Your Living Room Cozy for Fall
•
Posted on October 01 2019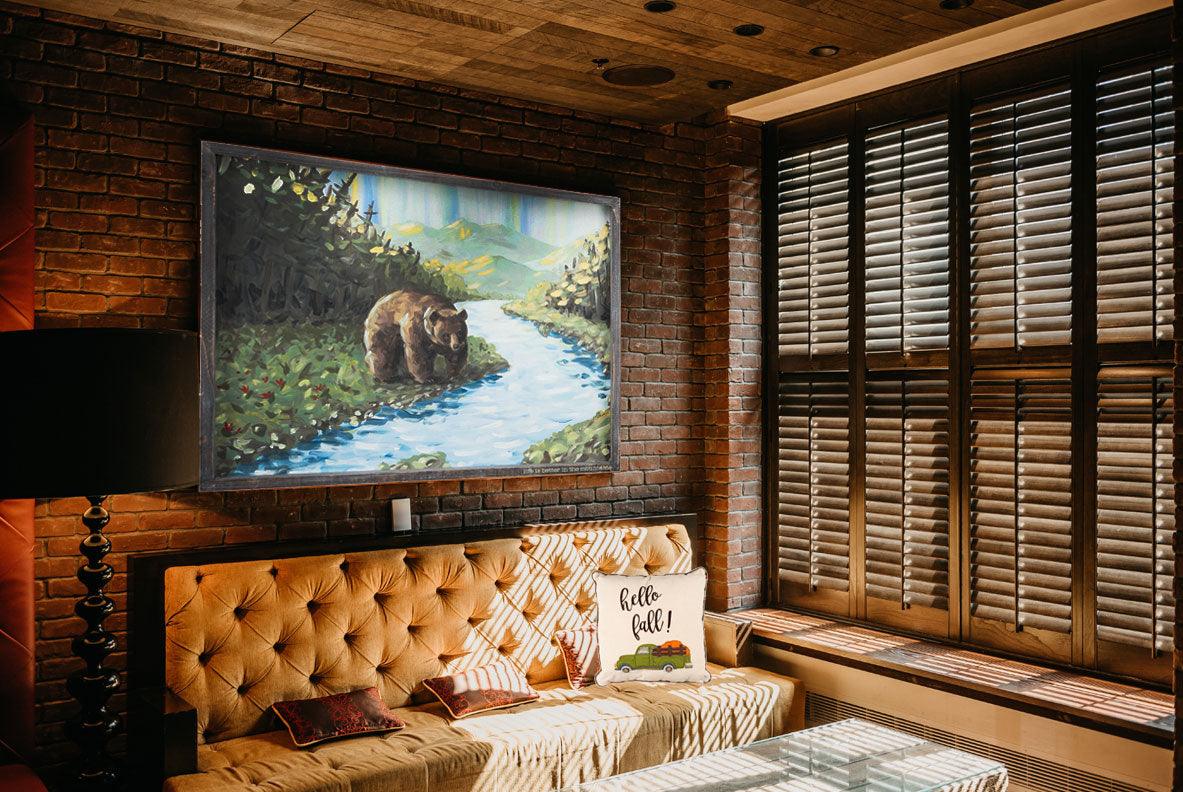 Fall is the season to get cozy! When evenings become crisp and leaves turn gorgeous colors, it's time to think about fall living room décor that focuses on coziness. Some autumn decorations work great in the yard, like scarecrows and wooden stands. But for indoor fall decorations, you want to think about what will feel soft and cozy for snuggling through the chilly nights to come.
Here at Glory Haus, we rejoice in the glory of fall's abundance! Read on for our top five tips for how to make your living room cozy this fall:
1.
Layer Up
The easiest way to add a cozy feel to your living room is to layer it with textures. Toss a cozy blanket over the back of the sofa and pile on throw pillows in a variety of materials. If you go with a mixture of solid colors and pillows adorned with seasonal graphic prints, you'll really amp up the coziness.
Think of textiles and textures everywhere in your living room: Area rugs keep wood floors from feeling chilly, woven place mats lend unity to knick-knacks, and burlap wall hangings add visual interest with a distinctly autumnal feel.
2. Go into the Woods
Even if you're not into chopping your own wood for the fireplace, consider wooden décor to bring a rustic, cozy feel to your living room. No autumn decorations are complete without a few wooden touches.
A wooden box makes a delightful centerpiece for the mantle or coffee table when you fill it with greenery, mums or candles. Hang a wooden bread board with a homespun saying on the wall for an instantly cozy effect. Display wooden boards on the mantle or behind candles on a side table for a subtle display of autumnal abundance.
3. Make It Leather
Nothing adds a sumptuous feel of fall coziness like leather. If you've got a leather chair or sofa, fall's the time to make it a showpiece with richly hued throws. If leather furniture isn't in your budget, get that rich look in a leather change tray on your coffee table. With its naturally aged appearance and luxurious feel, even the smallest leather accent adds instant coziness to any space. A leather change tray can hold change, of course, but apples or small squashes look particularly charming against that rich grain for an easy fall decorating idea.
4. Picture Warmer Days
Add the warmth of summer memories to your living room by adding outdoor-themed artwork to your indoor fall decorations. A framed photo or canvas artwork that recalls summer days in the mountains or at the lake will make everyone in your house feel cozy with nostalgia. Whether it's a rustic wooden frame displaying a treasured family photo or a painting of woodland creatures at play, artwork that evokes summer days brings warmth to your living room.
5. Glow with It
Nothing adds actual warmth to your family's home more than candles. Fall living room décor simply isn't complete without a few candles to bring a soft glow to those evenings when the sun sets earlier. Unify a group of candles that differ in height, width and color in a richly painted ceramic dish for a quick and simple fall decorating idea. Or place a few candles strategically across the mantle in glass or ceramic holders for soft and cozy lighting.