Trendy Table Decorations for this Thanksgiving
•
Posted on October 08 2019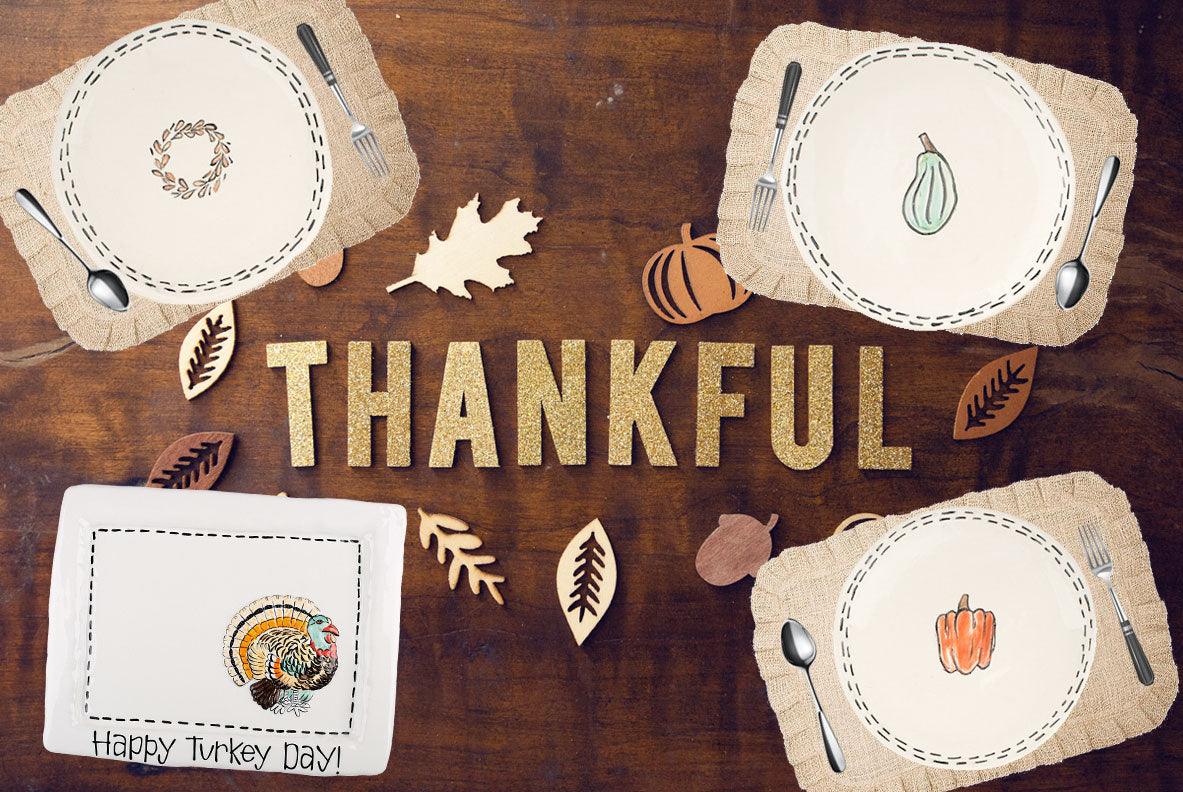 We have so much to be thankful for this year! Thanksgiving is one of our favorite holidays because it's all about gratitude for God's bounty. When we welcome all our loved ones into our home for our annual Thanksgiving feast, we like to showcase our fall dinnerware with Thanksgiving table décor that's as beautiful as the roasted turkey.
To help you create a Thanksgiving table setting that will wow your family and friends, we've put together four of our favorite trendy table decorations for this Thanksgiving. We think you'll love trying them out!
Maximalist
Thanksgiving is about abundance. It's the traditional harvest time, so let your Thanksgiving table décor reflect the bounty of autumn. With a maximalist approach, more is definitely better. Pile up dinner plates, salad plates and soup bowls on top of a cute place mat at each place setting. Make sure each guest has a wine glass, a water glass and a coffee cup, along with all the flatware they'll need for every course.
For a truly maximalist Thanksgiving table setting, go for a lush centerpiece of flowers, greenery and gourds. Contain them on a festive holiday tray or place them in separate vases and bowls for a truly abundant display.
Minimalist
If a lush, overflowing table setting is not your cup of tea, consider going the opposite direction with minimalist Thanksgiving table décor. This is a great idea if you have a gorgeous wooden dining table you'd like to showcase.
A minimalist table setting includes only what the dinner requires and very little embellishment. An elegant table runner down the center of the table creates an uncluttered look for the feast. Keep each place setting simple with a napkin neatly folded atop the plates — nix the napkin rings for a cleaner feel. Add a single medium-sized pumpkin as a centerpiece or lay a strand of greenery along the table runner for a sweet, simple Thanksgiving table decoration.
Rustic Chic
Combining rustic elements with fancy glassware or plates lets Thanksgiving table décor straddle the line between elegant and comfortable. It's the perfect combination for a Thanksgiving table that both delights and welcomes guests to relax.
The rustic chic look is all about balance. Pair simple burlap place mats with your grandmother's heirloom china and crystal goblets. Set off the place settings with a gorgeous floral centerpiece in a glass pitcher or vase that catches the light. Or place pinecones in an elegant bowl for a simple Thanksgiving table decoration that's sophisticated and chic.
Eclectic Beauty
The feast is really the star of your Thanksgiving table setting, but all your favorite dinnerware pieces can play supporting roles. A mixed and matched look helps guests feel welcomed and relaxed, so don't worry about anything matching — from the glassware to the dinner plates to the flatware.
If you've got several sets of fall dinnerware or Thanksgiving plates, bring them all to the table. The look of different patterns and colors can be playful, but they'll work best with a unifying centerpiece. Keep it simple with a metal or wooden tray full of flameless candles for a soft, glowing accent. Or place tiny potted succulents at each place setting for a whimsical touch of greenery.